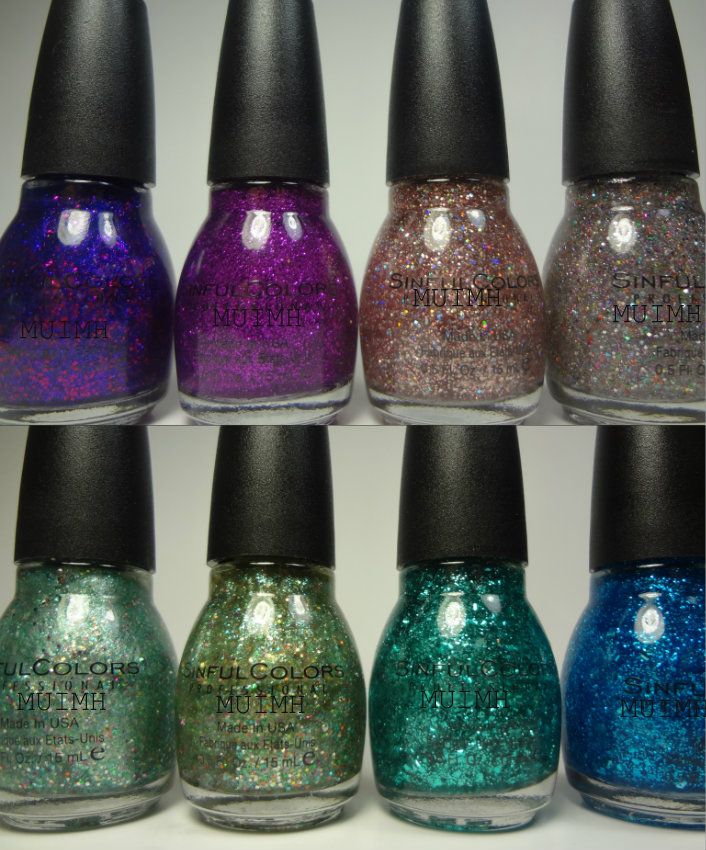 Good Afternoon!!!
Today I have some nail polish that I purchased a while ago that I had trouble swatching. I'm into glitters more than any other type of finish but these were quite annoying to swatch.
To make these opaque you'd have to do about 2-4 coats each (with the exception of one) and thats a LOT of work.
Too much work for someone who has little amount of patience.
Any-who, I have a TON of pictures for you guys to see these. There's a couple that are really pretty but rest are ok. No smell/drying complaints.
Few notes:
I got couple at Rite Aid but I got most at Walgreens. Walgreens the collection is called Almost Famous. The display stand at Rite Aid are the same shades but shows that this collection is called Paparazzi collection. I recommend checking both locations if you want these.
These are each $1.99 and contain 0.5 fl oz.
Now swatches:
Click below for more pictures!!

Fantasy- GORGEOUS multi-glittered polish. I don't know where to start with trying to explain this one. It's like magic in a bottle. This polish is similar to the Wet N Wild Coloricon Toppers with you can find my review on it: HERE.
Has multi-colored glitter and super fine silver glitter in it. Picture is about 2 coats.

Show Stopper- Has small pink glitter with small hex holo glitter. (about 2 coats)

Poparazzi- My Lease favorite in this collection is a basic super fine fushia colored glitter. Picture is in 2-3 coats.
After Party- Medium sized blue hexed glitter with super fine blue glitter.

Lush Life- A blue-ish green colored glitter with super fine blue-green glitter and medium sized blue hexed glitter.

Bombshell- Looks almost like In The Spotlight except this one seems to have more of a gold/green iridescence. Really hard to explain, but there is a difference between the two. I want to say that I did only 2 coats on this one, but I feel In The Spotlight can be more opaque than Bombshell can be.
In The Spotlight- A multi-colored small hexed glitter. Has what looks like a green/silver iridescence. Really hard to explain. (about 3 coats)
Star Dust- The only color in this collection that requires the least coats to become opaque as can be. In my opinion this is the most unique shades in this collection. Has small hex shaped pink glitter with super fine purple glitter. The base seems to be tinted purple but I am not sure. It also looks like it has a purple iridescence, so that may be giving it the appearance of the purple tint.
If you have any questions regarding this collection or want any layered over black, please let me know, I'd be happy to take more pictures!